Style Guide Draft
Updated September 2022
Typography
Use Heading 1 for titles, Heading 2 for headings, Heading 3 for subheadings. Follow this hierarchy for further subheadings.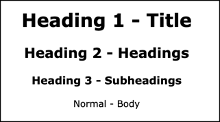 Use default font on all materials.
Logo Use
This is our primary horizontal logo:

Use with white background.
PowerSlice is one word with a capital P and S.
Don't change color of logo.
Brand Colors
Our brand colors include

red

(hex #DB332E) and

gray

(hex #4E4E4E).
Use red color for icons.



Use red color for certain headings and buttons.



Use gray color for certain buttons.

Language
Use friendly, personal language (you, yours, us).
Avoid overtly technical language that the user won't understand